Bunker fuel supply business for ocean-going vessels
Since our establishment, our main business has been the supply of bunker fuels for ocean-going vessels constantly entering Japanese ports, and we are now one of the largest trading companies in Japan in terms of volume handled.
Ocean-going vessels are one of the main arteries of logistics between Japan and other countries. While receiving a stable supply of quality products from domestic refineries, we strive to ensure a steady and safe bunker fuel supply by building close ties and trust with reliable barge companies and utilizing our unique know-how such as that for both spot chartered barges and time chartered barges, to flexibly respond to ever-changing vessel operation schedules.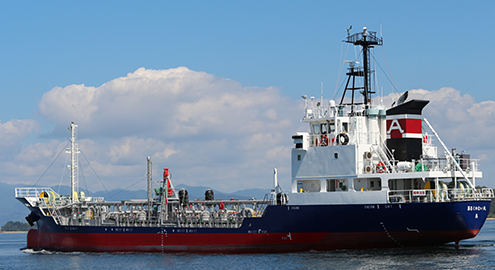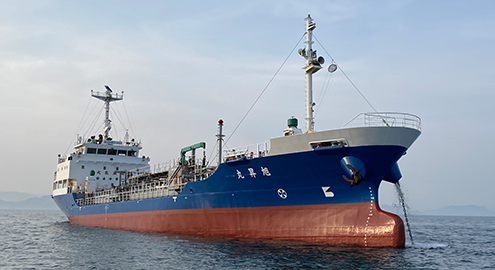 Overseas, on the other hand, we supply and sell bunker fuel for ocean-going vessels calling at overseas ports. We purchase directly from overseas producers and suppliers and aim to deal directly with shipping companies. We pride ourselves on our ability to grasp the daily crude oil and petroleum product markets and endeavor to optimize our purchases and sales, while placing considerable weight on the associated risk management, which is a unique characteristic of the bunker industry.
We have established a framework that enables us to make bunkering supply available in any region of the world, with particular emphasis on Singapore, Brazil, Korea, China, the Middle East, and other regions.
Sales of Crude Oil, Petroleum Products
Import/export of petroleum products such as kerosene and fuel oil as well as crude oil, and domestic trading business
Through import/export and domestic sales/purchase of petroleum products such as kerosene, fuel oil, and crude oil, we contribute to stabilizing the energy market in Japan.
As a member of Mitsui & Co. group, we utilize a worldwide network and respond quickly to the petroleum market situation, to effectively meet societal needs.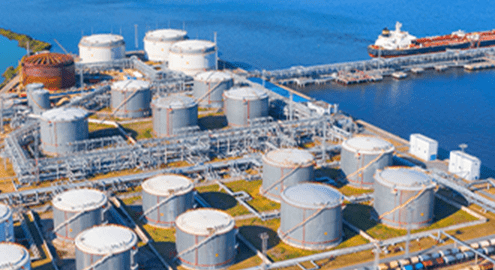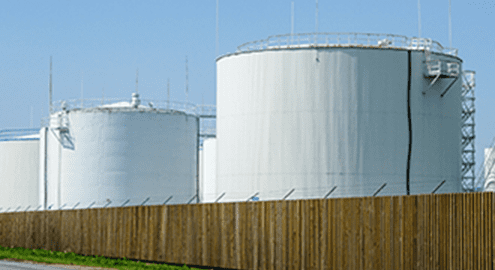 Sales of Marine Lubricants
Lubricant supply business for ocean-going vessels
We supply marine lubricant oils and greases for ocean-going vessels.
We handle a variety of products not only from domestic oil refiners but also from overseas oil majors.
We contribute to the smooth operation of ocean-going vessels through our longstanding, trusted business relationship with lubricating oil manufacturers and professional arrangements made by our experienced staff.
Situations related to such things as ship schedules and inventory of lubricating oil manufacturers change on a daily basis, but based on our abundant experience and network, we flexibly respond and make the best proposals.
Our business is to provide support for nuclear fuel-related contracts between overseas suppliers and Japanese electric power companies.
The energy self-sufficiency rate in Japan is extremely low, and it relies on imports from overseas for more than 90% of its energy resources.
Nuclear power is attracting attention as a base load power source for the transition to a carbon- free society.
Electric power companies mostly depend on overseas suppliers for processing and storage of their nuclear fuel, and we support electric power companies and overseas suppliers in the concluding and fulfillment of nuclear fuel related contracts and assist these companies to manage their material.